Following graduation from Wake Forest University, Captain Mary Jo "MJ" Sweeney, US Navy (retir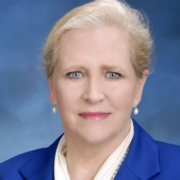 ed) was commissioned at Navy Officer Candidate School in Newport, Rhode Island, and served 26 years on active duty in a variety of posts around the world. Highlights of her career included command of the Navy's Pacific Fleet special mission ships (oceanographic and surveillance) in Pearl Harbor, Hawaii, and being a Battalion Officer at the Naval Academy. She also served as Commander, Military Sealift Command Atlantic, a major command, directing the Navy's Atlantic Fleet logistics, special mission and contract-operated ships supporting combatant ships in an area of operations spanning the Atlantic Ocean. She was designated a Joint Specialty Officer and earned the Navy's highest professional subspecialty designation in logistics. She holds Master of Science degrees from the Naval Postgraduate School and Troy University, in Transportation and Logistics Management and Management, respectively. During her final tour as Deputy Director, Office of the Chief of Naval Operations (CNO), The Pentagon, she was responsible for the continuity of operations in the aftermath of the 9/11 terrorist attack, performing a key role in the re-staffing and restoration of the CNO's staff and workspaces. In addition to being recognized for her actions in The Pentagon on 9/11, Captain Sweeney earned several awards of the Legion of Merit, Meritorious Service Medal, Navy Commendation Medal and Navy Achievement Medal, as well as numerous unit awards, throughout the course of her distinguished Navy career.
Upon retirement from active duty, Captain Sweeney joined USAA, the Fortune 500 financial services provider to military families, to oversee corporate marketing sponsorship and military affairs relationships in the Northeast. She led a USAA Military Affairs team covering 16 states and Washington, DC, directing all face-to-face activity in support of strategic and tactical engagement plans. Following a rewarding two years as part of the Executive Team of the USS ZUMWALT Commissioning Committee, she joined First Command Financial Services, once again overseeing strategic and tactical marketing and military affairs relationships in the Northeast.
Captain Sweeney then left corporate life to consult with veteran and military nonprofits on strategic planning for corporate sponsorship relationships and career transition programs. In the final arc of her working and personal life, Captain Sweeney has devoted herself to her passion for helping veterans on a pro bono basis, with a focus on career transition from uniformed service to further education and civilian careers. She currently serves on veteran-military organization advisory boards, works as a personal career transition coach and consults pro bono with organizations where she can lend her corporate marketing partnership expertise. She is a life member of MOAA and DAV, and is an active member of several veteran organizations and veteran-serving volunteer groups, including eMentor. Captain Sweeney's life goal is to continue to support the veteran and military community as a servant leader.
MJ has been a mentor in eMentor since 2019 and has mentored two proteges since joining.  Recently, one of her proteges said:
"[MJ] provided amazing guidance and counsel. She really listened to my concerns, fears, and preparation efforts around transitioning from the military in a few years and offered concrete recommendations, along with good thought exercises, to not only ease my anxiety but to help me start down my desired path. She is amazing, and generous with her time. I could not have asked for a better mentor."
From the eMentor Team: Thank you, MJ, for your continued service to our military men and women. Your work in and out of uniform is commendable and we are honored that you're part of the eMentor team.
https://www.ementorprogram.org/wp-content/uploads/2020/08/MJ-Update-smaller.png
250
250
admin
https://www.ementorprogram.org/wp-content/uploads/2016/09/ementorwithALTTagLine-copy-1-300x137.png
admin
2020-08-17 09:35:40
2020-09-15 12:52:11
Featured Mentor: Meet MJ