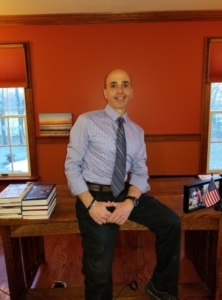 Paul Rampone has been the president of Hart Design Group, Ltd. since its founding in 1991.  HDG is a Rhode Island based multi-disciplined Engineering/Architectural firm serving the Biopharmaceutical, Chemical and Manufacturing sectors.  Hart Design Group is part of The Hart Companies, one of the oldest and largest Industrial Design/Build organizations in New England.
Paul earned his Bachelor and Master's Degrees in Mechanical Engineering from the University of Massachusetts, Amherst, where he also played on the Men's Baseball team.  He is a Registered Professional Engineer, licensed in over a dozen states.  At various times during his career, Paul has been a member of national Engineering Technical Committees.  Paul earned numerous technical certifications.  For over 15 years he sat on the boards of numerous multi-employer Union benefit trust funds.  Paul married his bride 32 years ago and together they raised four children.  He has a son who is active military (Army).
From Paul:
I have volunteered as a Mentor for Veterans, transitioning active military members, as well as military spouses since 2014.  Typically those relationships focus on career, but often branch into any number of areas where they are seeking improvement and/or advice.
In my tenure as Hart Design's President I have had the privilege to hire a number of veterans and assist them with their transition from military to civilian life.  I have also hired and developed many young engineers, architects, designers and tradesmen. From that experience I have identified a core set of competencies that are essential for success but are unfamiliar to many of the young people coming into the workforce.  Conversely, veterans typically possess many of those skills and just need some assistance in focusing them into the civilian marketplace.
My mentoring experiences have ranged from formal weekly meetings with established agendas, time frames and goals to very casual connections where the individual called when they needed advice.  These are the areas I prefer to focus in:
Finding the right job or a better job. Determining a career path, how and where to look, preparing a resume and cover letter, conducting an interview and appropriate follow-up.
Starting a Business. Provide real world assessment for establishing and running a new business including; What, Where and How.  Start-up costs, securing financing, operating costs, assessing realistic revenue potential.
Specific Professional Skills Development; i.e. Project Management, Basic Accounting, Budgeting, Scheduling, Estimating.
Personal Finances / Getting or improving your credit. Establishing and living with a Budget, balancing a checkbook, insurance, loans, credit cards.
Family Advice. (I'm no guru, but having raised 4 kids, and coached hundreds I've pretty much seen and heard it all)
Self-Improvement and Confidence. I'm not a mental health professional but I am a firm believer in the benefits of practical Stoicism (1), Self-discipline, Physical Fitness, and Positive focus. Having purpose, making a contribution and building progress towards a goal are keys to a fulfilling life.
Sports Parenting. I have coached and/or participated in everything from T-ball to D1 College, from Rec leagues to elite travel teams to National Tournaments and even the Little League World Series. Having had 3 boys and a daughter go thru the "systems" I truly have seen the Good, the Bad and the Ugly of youth sports.  From a wide range of experiences I can provide perspective on how to develop a competitive athlete while avoiding the trap of becoming a sports-parent clown.
Paul has been a mentor in eMentor since 2014 and has mentored eight proteges since joining.  Recently, one of his proteges said:
"[Paul's] guidance, patience and wisdom gave me an eye opener; knowing that I was
settling for a career and that I needed to push forward and show my true potential. I am grateful to have a connection with Mr. Rampone during the mentorship program and even after."
From the eMentor Team: Thank you, Paul, for your continued service to our military men and women. The work you're doing is commendable and we are honored that you're part of the eMentor team.
https://www.ementorprogram.org/wp-content/uploads/2020/09/Paul_Rampone_SmallPic.jpg
227
237
admin
https://www.ementorprogram.org/wp-content/uploads/2016/09/ementorwithALTTagLine-copy-1-300x137.png
admin
2020-09-15 12:52:53
2020-09-15 12:55:21
Featured Mentor: Meet Paul