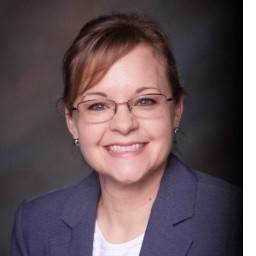 Elizabeth Chamberlain is the Deputy Director, for Cyber and Strategic Enabling in the Concepts, Development and Management (CDM) Office under the Administrative Assistant to the Secretary of the Air Force, Washington, D.C. SAF/CDM develops and implements initiatives and activities for the Office of the Under Secretary of Defense for Intelligence as well as the Secretary of the Air Force. In this role, Ms. Chamberlain assists CDM leadership to assess technical and operational risks, identify optimized strategies, and determine operational efficacy to meet cyberspace, information and applied technology requirements for intelligence activities and operations.
Ms. Chamberlain was commissioned in 1993 following graduation from the U.S. Air Force Academy. A career intelligence officer with over twenty-five years' experience in the active duty and reserve components, her assignments have included duties at the flying unit, Air Operations Center, Wing Intelligence, Military Education, Numbered Air Force, staff of the Secretary of the Air Force, staff of the Under Secretary of Defense for Intelligence, six Major Commands and three Combatant Commands as well as the National Air and Space Intelligence Center (NASIC). Deployments include Taif, Saudi Arabia (DESERT STORM, VIGILANT WARRIOR, 1994), Vicenza, Italy (DELIBERATE GUARD, JOINT ENDEAVOR, DECISIVE ENDEAVOR, 1996), and Diego Garcia, BIOT (ENDURING FREEDOM, 2002).  She returned to Civil Service in February 2019.
From Elizabeth:
"I've been blessed by the support of so many leaders, and hope that I can pay it forward for others.  Every mentorship relationship is unique, and what we have to share changes as we grow as leaders and professionals.  But the satisfaction of helping others succeed is timeless."
Elizabeth has been a mentor in eMentor since 2011 and has mentored three proteges since joining.
From the eMentor Team: Thank you, for your continued service to our military men and women. The work you're doing is commendable and we are honored that you're part of the eMentor team.
https://www.ementorprogram.org/wp-content/uploads/2020/10/Elizabeth-Chamberlain.jpg
256
256
admin
https://www.ementorprogram.org/wp-content/uploads/2016/09/ementorwithALTTagLine-copy-1-300x137.png
admin
2020-10-14 12:15:44
2020-10-14 12:15:44
Featured Mentor: Meet Elizabeth