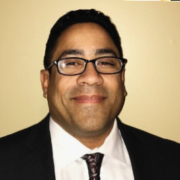 Miguel is a retired Army Officer with prior enlisted service in the Navy. Currently, he serves as a project management consultant in the Biotech and Pharmaceutical industry. Miguel has director level experience as a program and project manager in the biotech and pharma space as well as director level experience in operations. He is an operational leader with direct oversight of day to day operations, training, work force development, establishment of internal education programs, direct budgeting experience with P&L responsibility, oversight of facilities, direct reports, and scientific staff to include clinicians and scientist. His consultant experience includes: drug development of early stage (pre-POC through IND submission, FIH and FIP studies) of oncologic product(s), late stage bio-similar product development for autoimmune indication to include submission of BLA, MAA, global expansion, regulatory queries through approval. Initially, Miguel joined eMentor as a protege.  Upon his own successful transition into his civilian role, he returned to eMentor as a Mentor to give back to walk military members through the transition from military service specially with those interested in project management.
Miguel has been a mentor in eMentor since 2018 and has mentored two proteges since then.
From the eMentor Team: Thank you, for your continued service to our military men and women. The work you're doing is commendable and we are honored that you're part of the eMentor team.
https://www.ementorprogram.org/wp-content/uploads/2020/12/MiguelColonPic.jpg
267
267
admin
https://www.ementorprogram.org/wp-content/uploads/2016/09/ementorwithALTTagLine-copy-1-300x137.png
admin
2020-12-14 17:58:12
2020-12-14 17:58:12
Featured Mentor: Meet Miguel