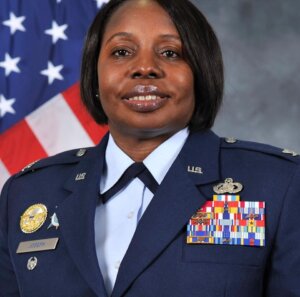 A Passion for Mentoring
I find a mentoring opportunity everywhere I go … or should I say, a mentoring opportunity always seems to find me. In September 2021, my planning efforts with the Virgin Islands Association-DC and Congressional Meet and Greet ensured the event created a mentoring opportunity for the Virgin Islands college students in the D.C. area to form a mentoring relationship with members of the association based on their needs. Recently, during the USAFA 1993 Ladies Weekend, I was able to round up female cadets of Embry-Riddle Aeronautical University and Arizona State University to provide them an opportunity to meet up to 48 incredible women who all served (or continue to serve) as officers in the Air Force and Space Force. The cadets met a wide variety of professional women who now serve as senior officers, senior government officials, entrepreneurs, and corporate leaders.
We all know there are many benefits to mentoring for the person being mentored. Besides getting insights from someone who has been there and done that, mentoring is an opportunity to help others expand their networks, increase emotional intelligence, and help them grow as professionals and leaders. Although I personally had very limited mentoring throughout my 31-year Air Force career, I have made it my purpose to mentor and prepare tomorrow's leaders today. That's why I find any small window of opportunity to ensure young professionals gain access to available mentors every chance I get, and also make myself available as a mentor.
How Mentoring Works for Me
One key to leading effectively is establishing your span of control. It is essential to determine how many people you can effectively mentor. Some mentors set a defined number, while others don't. Ideally, you want to connect with your protégés on a reoccurring basis. Some people connect bi-weekly or monthly. For me, each mentoring relationship is different and calls for different schedules. However, I have found that initially, a monthly check-in is effective until a quarterly or twice a year check-in makes sense. The first meeting is a great time to establish a schedule that works for everyone. It's also the time when I take time to learn about my protégé, their personal and professional history, family, likes, dislikes, goals, and what brought them into the military. In turn, I share information about myself to help build the relationship.
Here are a few essential things I think are critical to the successes of my protégés (and, by the way, success can be in or out of the military):
#1 The tried and true "bloom where your planted" mantra. Understand your job, know your job, do your job, and become the subject matter expert that everyone else turns to. I firmly believe how you perform now sets the conditions for tomorrow.
#2 Understand your boss' expectations (if in command, also consider the expectations of your boss' boss).
#3 Know the people that are your immediate reports (at a minimum). Know who they are, what makes them tick, their family composition, etc. This is especially important if your immediate report is a dorm/barracks resident … you should have a pulse on their weekend plans and what their living conditions are like. I used to call this intrusive leadership; now I call it caring leadership.
#4 When new to a career field or starting over (especially at a new base/location), taking on a base-wide project showcases your project management skills and ability to lead peers and superiors. Do this only after you have done #1, #2, and #3
#5 Work on the things you can control … AKA "control the controllable," such as professional military education, graduate school, physical fitness test, #1 and #2, etc.
#6 Understand the differences between a mentor, coach, and sponsor.
End Goals
The best part of this process is one day, our protégés "get it" and find themselves leading their subordinates and mentees using the same tools. I help, guide, and steer my protégés towards their success goals. I aim to help my protégé understand who they are, why they serve, and how they can comfortably lead authentically. Building tomorrow's leaders of character and integrity is what keeps me focused on my Pride-Hustle-Desire (PHD).
Finally, here are suggestions of additional vital areas to share: expectations, values, strengths, interests, self-care, critical thinking, handling difficult conversations, leading across, leading up, supervising civilians, authentic leadership, work-life balance, the unspoken unknowns.
Wistaria Joseph is a prior-enlisted 1993 USAFA graduate who hails from the U.S. Virgin Islands.  She retired from the Air Force in 2021 after 31 years of service and commanding at the Squadron and Group levels. Wistaria last served in uniform as the Director of Manpower and Personnel for the U.S. Transportation Command. Since retirement, she continues to mentor growing leaders and is a founding member of nFormation LLC, a safe space community created by women of color to help women of color take a seat at the proverbial table, in order to shift the balance of power in favor of greater equity. Additionally, as Vice President, Mentoring Program with Air Force Cadet Officer Mentoring Association Inc, Wistaria has started 45 minority Air Force Officers and cadets on their own mentoring journey. In January, Wistaria began a PhD. program in Business Administration Degree with the University of South Florida and relocating to the greater Tampa Bay area. Recently, she also spent time reconnecting with the women of her USAFA class by assisting with planning their first Female-only weekend to Reconnect, Recharge, and Relax. Her passions include coaching, mentoring, traveling, educating, fine dining, wine tasting, and hot yoga.
From the eMentor Team: Thank you, for your continued service to our military men and women!
https://www.ementorprogram.org/wp-content/uploads/2022/03/PTB93-Ladies-and-Cadets_Jan-2022.jpg
854
1280
admin
https://www.ementorprogram.org/wp-content/uploads/2016/09/ementorwithALTTagLine-copy-1-300x137.png
admin
2022-03-06 11:30:20
2022-03-09 11:48:52
Advice from Expert Mentor, Wistaria Joseph