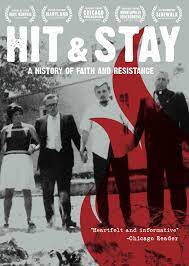 Join eMentor for a very special workshop to explore documentary filmmaking with Joe Tropea* and Skizz Cyzyk, directors of the award-winning documentary film Hit & Stay: A History of Faith and Resistance. Participants will have the opportunity to view the film prior to the workshop, learn about the process from the filmmakers, and ask any and all film-related questions.
Register HERE by May 12th! 
*Registrants will receive access to the film through a special link from the filmmakers prior to the workshop.
Hit & Stay premiered at The 2013 Chicago Underground Film Festival, where it won the Audience Award. It made its Baltimore premiere at the Maryland Film Festival. The documentary made its premiere in the South at the Sidewalk Moving Picture Festival where it won the Best Documentary Feature award.
*If the name sounds familiar, Joe Tropea is eMentor Program Manager Ann Tropea's husband! Joe and Skizz Cyzyk have generously donated their time and expertise to the eMentor community to host the Filmmaking Webinar. Thanks Joe and Skizz!