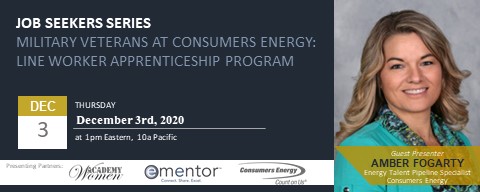 Building on its legacy as a top workplace for veterans, Consumers Energy is recruiting military veterans with electric experience to join its new Basic Electric Lineworker Apprentice program, earning $35 per hour following 10 days of free training.
"We value the skills and strengths our country's military veterans bring to work every day," said Guy Packard, vice president of electric operations for Consumers Energy and Navy Reserve veteran. "Electric lines work is a high-demand occupation that is physically challenging and requires a high degree of mental discipline. Veterans have an excellent track record of career success at Consumers Energy."
Consumers Energy ranks highly as a workplace for veterans. The energy provider is recognized as a Michigan Veterans Affairs Agency Gold-Level Employer and ranked 3rd in Michigan in the Military Times Best for Vets Employers 2020 list.
This topic is best suited for any veteran or transitioning servicemember who has a foundational knowledge of electrical functionality; specifically safety, basics of electricity, energy industry basics,  and who is interested in attending a free ten-day, pre-apprenticeship training provided by Consumers Energy in Potterville, Michigan.
This webinar will help you discover:
Why Consumers Energy values veterans and is actively recruiting veterans for their Basic Line Apprentices.
What makes Line Workers an excellent career field at Consumers Energy.
Consumers' apprenticeship program, application process, basic requirements and dates of training.
How Consumers' benefits package and Veteran Employee Resource Group make Consumers an attractive workplace for the Veteran Community.
How to leverage and translate your military skills and experience to prepare your apprenticeship application.
If you are interested in joining this webinar, do not delay.   SPACE WILL BE LIMITED.  Therefore, registration for this webinar does not guarantee your participation.  When you submit your registration, and if approved, you will receive a confirmation email with further instructions.   You can learn more and register for this event by clicking here.
As a participant in this webinar, you will also have the opportunity to include your profile in the 2020 Professional Profile Directory. The Directory features the highly sought-after skills, talents and leadership competencies of veterans and military spouses in career transition.  This directory will be shared with eMentor and AcademyWomen partners (like Consumers Energy) who may be able to facilitate hiring, a group that includes a wide array of top-caliber corporate, nonprofit and government entities.  Register for the webinar TODAY to reserve your space and learn more.